Words Matter
Redeemed Jewelry started like many businesses, as a fun side project between two friends, who enjoyed making custom jewelry. What we didn't foresee was the impact our necklaces and the Scripture written on them, would have on people. Every day, our customers remind us how a simple quote or passage of Scripture can shape a person's life and encourage them at just the right moment.
When you buy a Redeemed Jewelry piece, you join us in the journey of spreading God's love through His Word. This jewelry has positively affected so many lives and encouraged people's hearts, one piece at a time. Thank you for joining us on this journey. We can't wait to see where the Lord leads.
- Lara O'Brien & Barb Green, Redeemed Jewelry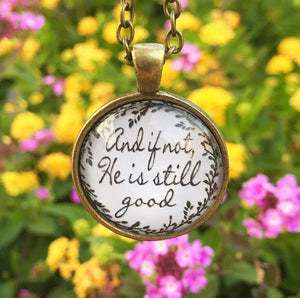 The Worth Project
The purpose of the Worth Project is to give a group of people each month, an extra necklace to save in their pocket or purse or car for one of those moments where God is nudging them to encourage someone.
Learn more
Blog
---
SURRENDER—Psalm 28:7 The past five years I've chosen a word and Scripture to be an encouragement and sort of a personal anthem for the year. I truly feel that none...