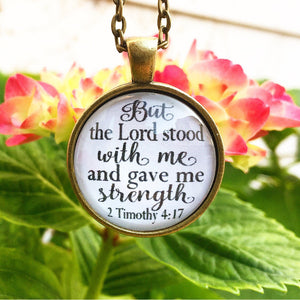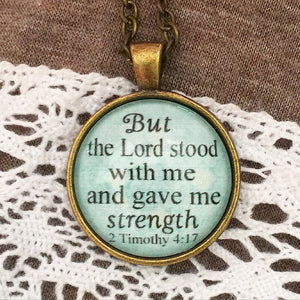 Beautiful necklace
I ordered a silver necklace with 2 Timothy 4:17 and it is perfect!! It is very good quality.
My order was processed quickly. I will order again from this company!!!
When I saw your necklace I knew I had to get it. God gave me that scripture on the morning of January 1st 2021. Later that afternoon my husband had a stroke that eventually led to his death in March. The Lord has definitely stood by me these past few months. So that necklace brings me much peace. Thank you.
So pretty
I am so pleased with my purchase! It's beautiful, well-made, and the shipping was really fast. It's such a thoughtful gift. I'll definitely order again.
It was given as a gift, however,
However, this necklace appeared to be a good buy. It was a perfect scripture for the situation. Thank you!
But the Lord stood with me and gave me strength 2 Timothy 4:17 Necklace