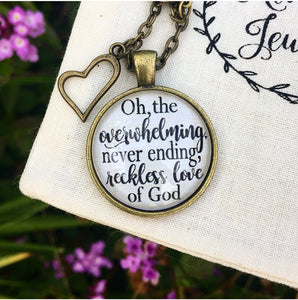 awesome gift!!
bought this as a birthday gift for a friend. received my order very quickly & i am overly satisfied with it!! so much so, that she's getting her gift early! lol. great quality, looks exactly as shown in the picture & shipping was quick too. beautiful jewelry & highly recommended for yourself or as a gift.
Love it!
Very nice! Praying this piece will serve as a reminder to the one I gave it to that God's love will never stop chasing her down.
Incredibly Beautiful
I am absolutely obsessed with my necklaces. Reckless Love is my most favorite song in the whole world. I had messaged Lara to ask if it would be possible to have a little letter "E" & an "R" added to my necklace & she was more than happy to accommodate. It's the only necklace I will ever wear again!
I am delighted!
I just received this yesterday (much earlier than expected) and I love it. I chose the 30" chain and I am so glad I did. It lays perfectly next to my heart. I love it!
Amazing
I love wearing my necklace!