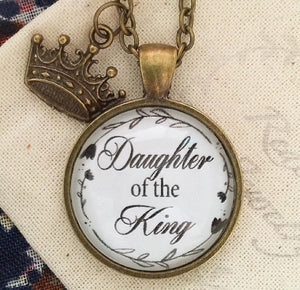 Daughter of the King Necklace
I bought this for my teenage grand daughter and she loved it. Now we use it as a heart check when we see each other.
Daughter of the King necklace
I love it! I will be doing more shopping for myself and others!!
Daughter of the King necklace
Beautiful!
Received this as a birthday gift and absolutely love it!!! Was packaged in a cute little drawstring bag with a note from my friend. After I opened the package, I went online to check out all their shop and have fallen in love with their designs! I plan on doing some Christmas shopping here!
Wonderful idea!
I just love my Redeemed Jewelry! What a great idea to put such wonderful encouragement around our arms and necks to bless us whenever we look down on them. It puts a big smile on my face when I read the beautiful words. Thank you Redeemed Jewelry.