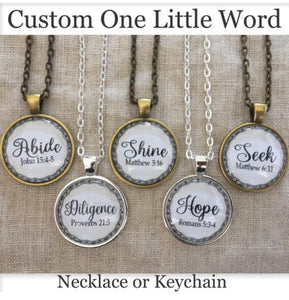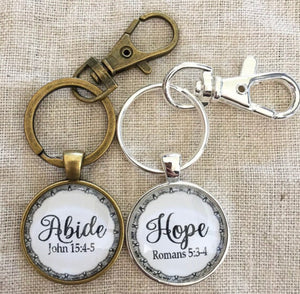 Love this jewelry
I love my one word jewelry. The only thing I would change is the size of the charm. I would like it a little smaller (I may have been able to order but don't remember seeing a size.) I have friends who have seen it and want to order. I have other pieces and love them all. Very well made.
so meaningful
I gave this "one word" necklace to a fairly new friend, she actually had "2" words for this year, so I had it made with the 2 words. She is undergoing treatment for uterine cancer right now so it was very special to her. She loved it!
Thank You!
At Christmas, I gifted two personalized necklaces with a boy's name and a reference to Psalms. The boy was stillborn this summer and I gave the necklaces to his mom (my niece) and his grandmother (my sister). It was a very special moment for us to recognize him at our family gathering today. We all cried and both love their necklaces! Thank you so much!
Love
Word for 2019...Joy! (Happiness depends on happenings, but joy depends on Christ. -Philippians) This is a great necklace to remind me of just that.