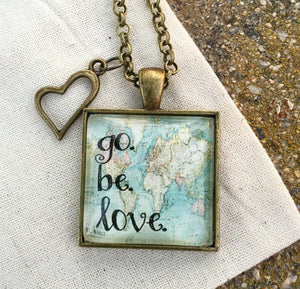 Map necklace
Absolutely as advertised, beautiful!
Purchased as a gift. It will be loved.
Quality is great.
Thank You.
Lorna
Beautifully made with love
This piece is beautifully made, with a sweet sentiment that I will wear proudly as I travel around the world with my beloved husband. Such a great wearable reminder to love people right where they are, wherever we are. Thank you!
Completely satisfied!
I am totally pleased with my purchase!
What the pendant says to me is to go and love the world. My daughter has come back from a year with Youth with a Mission and has learned all about going out and living the world with Jesus' heart.
---